Let's Celebrate This Month – It's a National Pet Dental Health Month!
Pet Dental Health Month
Any pet owner know the importance of a regular grooming and exercise routine for their pet, but proper dental care is often overlooked. With February being National Pet Dental Health Month, there is no better time to develop a maintenance plan for your pet's oral hygiene.
Nohl Ranch Animal Hospital reports gingivitis and periodontal disease in dogs and cats that have become widespread, and pet owners should take some simple actions to be sure their pet has good oral health.
So dental care for your pet should begin as soon as possible, and it is vital. that's why here in Top Animal Hospital in Orange, we're going to teach you how to properly care for their teeth and gums right from the start. We can provide demonstrations of the most effective and hassle-free way to brush your pet's teeth, as well as which diets and toys are the safest and most effective.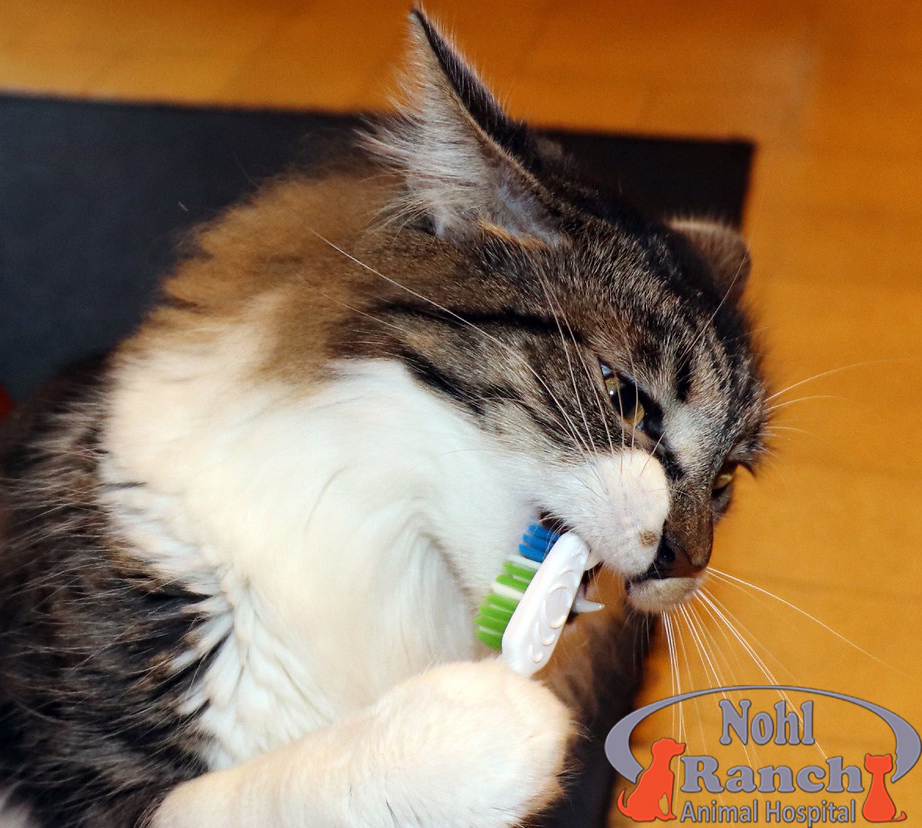 85% of adult pets have dental disease. If left untreated, dental disease can lead to pain, tooth loss, and chronic infection for the pet. As dental disease continuously progresses, it can lead to more serious health issues including damage to the heart, liver, and kidneys. February is known nationally as Pet Dental Month. Because we care about the health of your pet, so here at Orange Pet Clinic, we do try to raise awareness for pet owners on the importance of the dental disease and we offer a 25% OFF DENTAL CLEANING & 10% OFF EXTRACTIONS.
Signs your pet is suffering from the periodontal disease:
Bad breath: this is the leading sign that there is an infection.
Tooth loss.
Subdued behavior (irritable or depressed).
Abnormal drooling.
Dropping food from the mouth.
Swallowing food whole.
Red, inflamed, bleeding gums.
Going to food bowl, but not eating.
Any change in chewing or eating habits.
Mouth sensitivity.
Pawing at the mouth.
Stomach or other digestive problems.
Nohranch Animal Hospital recommends these simple steps to ensure proper pet dental health care:
Step 1. Visit a veterinarian at least once a year.
The veterinarian will examine a pet's teeth and gums. Recommendations may be made for cleaning, polishing and other dental care in the hospital and a program of home dental care may be needed.
Step 2. Professional dental care.
If a pet already shows evidence of periodontal disease a professional cleaning is in order. Depending on the pet's age and physical condition, the doctor may recommend blood analyses, radiography or other diagnostic tests to evaluate the heart, liver and kidneys for coexisting disease before proceeding with general anesthesia.
It is important that only veterinarians and their trained staff, under direct supervision, perform dental cleaning. Only veterinarians have the knowledge, skills and abilities to diagnose and treat diseases of animals, including dental diseases.
Step 3. Dental care at home.
Regular brushing is critical to any preventive dental program. A special toothbrush and toothpaste for pets are recommended.
Feeding pets, a dental diet with the Veterinary Oral Health Council seal may help prevent accumulation of plaque, tartar and calculus. Consult a veterinarian regarding the best diet for your pet.
Step 4. Return to a veterinarian for regular dental checkups every six to 18 months or as recommended by your veterinarian.
The Orange Vet Hospital urges all pet owners during "National Pet Dental Health Care Month" to review their pet's dental care and take the necessary steps to ensure their pet has healthy teeth and gums.
At Nohl Ranch Animal Hospital, We always strive for your Pet health mentally and physically.
For More Information, Please Call us at (714)921-2495 Or Make an Appointment Now!
Nohl Ranch Animal Hospital has been serving pets in "Orange","Anaheim",
"Santa Ana","Fullerton" and "Tustin" for more than "15" years.
Join Our Happy Clients From here Contact Us…
We'll be more than happy to answer all your questions and concerns.