Let's go for a walk – pet style! Its National Walk Your Pet Month!
Timeline For "Walk Your dog" Month:
In 2011

: The largest dog walk, "The Great North Dog Walk" was organized in the U.K. 22,742 dogs took part in it.

In 1964

: In New York, Jim Buck started out walking an acquaintance's dog. Later he went on to employ assistants that were walking hundreds of dogs. He also opened a training school for dogs.
In 1929: The first school for training service dogs in Nashville, TN, started training dogs to become intelligent walking companions for the visually impaired.
As we're one of the Top Animal Hospital in Orange, we're encouraging Pet parents who fail to walk their pet as often as they should add to the increasing problem of canine behavior issues and canine obesity throughout America.
Top Pet Clinic in Orange hearten our dear clients to get moving and don't let the lower temperature in winter slow you down. Pets need plenty of exercise throughout the year and, the best way to keep them active in winter is to take them for regular walks. Even a short walk around the block on a cold day can make a big difference.  So, Let's start this year with a pledge — better health for you and your Pet!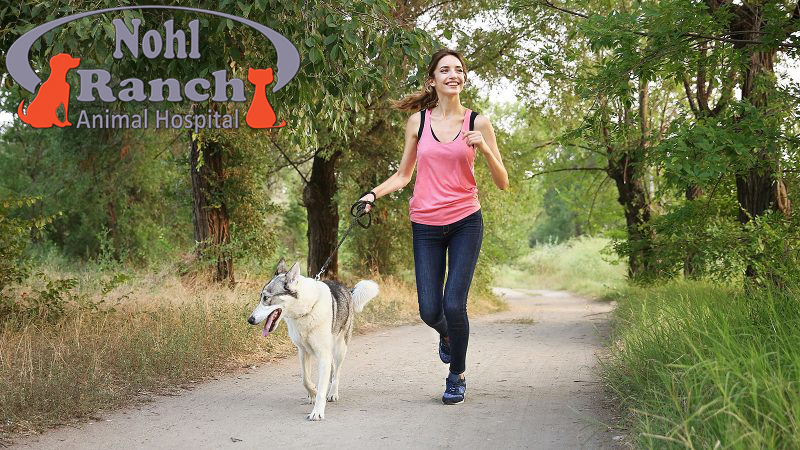 Walking your pet is much more than just a reason to get out of the house as Our Doctors' Advice in our Vet Hospital at Orange. It has also a numerous amount of health benefits!
Here are some reasons why walking your pet should be at the top of your to-do daily list:
For Your Pet Health Benefits

. A daily walk helps prevent obesity, preserves muscle tone, and improves joint function. Pets build up a certain amount of energy a day that there just dying to let out. Having a tired pet will cause it to be calm and relaxed! Good for you and your home!

For Your Health Benefits

. Whether your 2020 resolution is to be more active or reduce stress, it's also can help you to improve your cardiovascular fitness, strengthen your muscles and bones, lower your blood pressure, and relieve stress and anxiety.

For You & Your Pet's Social Interaction

. Socialization is an important part to anyone's life – especially your pet! Exploring the neighborhood or teaming up with a friend and their pet is a great place to start. While walking around you may bump into a friend or your pet's friend! Building your pet's social skills will make for peaceful interactions soon.

Training Your Pet

. Remember!! You should be the one walking your pet not anyone else. This is a time where your pet is most likely to focus on you and your training.

It's a Bonding Time

. By simply walking your pet you are providing them with the attention and interaction they long for. Also walking your pet with other pets will help them develop a relationship. It's very important to have a strong bond with your pet. Don't forget! The Pet your best friend.
Last thing from NOHL Ranch Animal Hospital.
Remember!! That a Pet that is not walked often could become anxious, bored or destructive. You don't want to walk into a destroyed living room! Boredom is one of the key reasons why Pets tend to act out – cure that boredom with a lovely walk together! It's ALWAYS a beautiful day for a walk!
At Nohl Ranch Animal Hospital, We always strive for your Pet health mentally and physically.
For More Information, Please Call us at (714)921-2495 Or Make an Appointment Now!
Nohl Ranch Animal Hospital has been serving pets in "Orange","Anaheim",
"Santa Ana","Fullerton" and "Tustin" for more than "15" years.
Join Our Happy Clients From here Contact Us…
We'll be more than happy to answer all your questions and concerns.