Every Year Employees Across The Country Bring Their Dogs To Work, The Friday After Father's Day.
"It's National Take Your Dog to Work Day"!!
Timeline For "Take Your Dog to Work Day":
Take Your Dog to Work Day "TYDTWDay" was first celebrated in 1999. 2020 marks the 22nd annual event.
There is also increasing participation in "TYDTWDay" in Canada, Australia, United Kingdom, New Zealand, and Israel.
In 1999: Pet Sitters International "PSI" held the first Take Your Dog to Work Day in the United States on Friday, June 24. An estimated 300 companies participated nationwide.
In 2003: "TYDTWDay" celebrated five years of helping to save the lives of homeless pets. More than 5,000 companies joined in the celebration.
In 2005: more than 37,000 Dog lovers visited the "TYDTWDay" website to download information and learn more about the event.
In 2019: there are over 2 million insured pets in the US with 15% of American companies offering pet insurance as a benefit to their employees.
The Benefits of "TYDTWDay":
Dogs aren't the only ones that experience a boost in catharsis. "TYDTWDay" is a powerful way to boost an owner's mental health, too. Studies show that pets in the workplace reduce stress and anxiety quite dramatically and that this influences productivity.
In short, The Dogs keeps people calm and focused on the job at hand.
Why Should We Bring Our Dogs To Work?
Taking your dog to work with you is a great way to start conversations and create collaboration between departments.  Dogs are great conversation starters and people from all over the office will come over to meet your dog.  Animals bring us so much joy, so why not enjoy their company all day and share the companionship with others!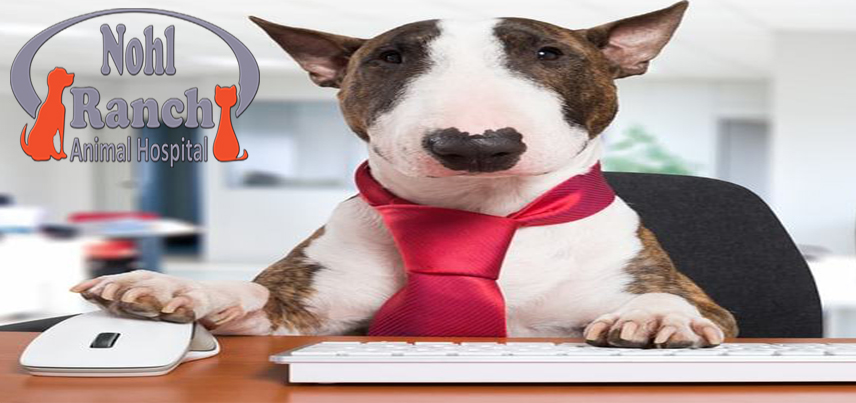 What We Must Do Before This Event?
Make Sure Your Dog Is Clean:
If your Dog caught fleas, look into shampoos that are designed to remove fleas. Also, there are plenty of natural repellents that you can use such as spraying your dog with lemon water.
Also, if you don't have a flea treatment shampoo at hand, some pet owners claim that baby shampoo also works perfectly in removing fleas.
Check Up Your Dog Now!
Preventing Fleas & Ticks is cheaper than controlling them once there is a flea infestation.
In Nohl Ranch Animal Hospital, we are going to do our best to keep your pet healthy. Your pet won't pick up tapeworms or have flea bites that cause itching misery and flea allergy dermatitis. In addition.
By Visiting Our Top Pet Clinic in Orange, we can help your dog to prevent diseases that fleas and ticks carry such as Lyme disease, ehrlichia, Rocky Mountain spotted fever and tick paralysis.
Stay healthy around animals:
In the United States, there is no evidence that animals are playing a significant role in the spread of COVID-19.  Based on the limited information available to date, the risk of animals spreading COVID-19 to people is considered to be low. However, because all animals can carry germs that can make people sick, it's always a good idea to practice healthy habits around pets and other animals:
Wash your hands after handling animals, their food, waste, or supplies.
Practice good pet hygiene and clean up after pets properly.
Talk to your veterinarian if you have questions about your pet's health.
 How to Celebrate?
Puppy-proof the office:
Put away thing's dogs may chew or eat that could be harmful to them or damaging to the office (chocolate, poisonous plants, electrical wires or equipment).
Prepare a doggie bag:
Include food, treats, bowls, toys, leash, paper towels, clean-up bags and pet-safe disinfectant. If you are routinely in and out of your workspace, consider bringing a baby gate for your doorway or a portable kennel for your dog's comfort and your peace of mind.
Vote for the top dog:
Give out fun prizes for best outfit, coolest dog trick, smallest dog, tallest dog and other fun categories.
Avoid forcing co-workers to interact:
with your dog. Dog lovers will make themselves known. Sally from accounting and Joe in human resources may not want to play fetch or offer belly rubs, so be mindful of fellow employees' time and space. To avoid pet accidents, monitor the number of treats your co-workers give your pet. Remember that chocolate, candy and other people food should not be shared with dogs and that not all non-dog owners will be aware that these items can be very toxic to your pooch.
Have an exit strategy:
Although most dogs enjoy "TYDTWDay", your pet may not. Should your dog become overly boisterous, agitated or withdrawn, consider taking him or her home or plan for your professional pet sitter to offer a midday check-in visit. Never, under any circumstance, leave your pet alone in a vehicle while you work.
At Nohl Ranch Animal Hospital, We always strive for your Pet health mentally and physically.
For More Information, Please Call us at (714)-921-2495 Or Make an Appointment Now!
Nohl Ranch Animal Hospital has been serving pets in "Orange","Anaheim",
"Santa Ana","Fullerton" and "Tustin" for more than "15" years.
Join Our Happy Clients From here Contact Us…
We'll be more than happy to answer all your questions and concerns.